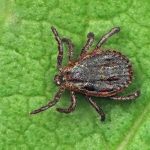 Wisconsin Ticks: Tick Biology, Diseases, and Personal Protection: ONLINE. Free. LIVE.
Date: April 23, 2020.
Time: 2:00 pm to 3:00 pm.
Location: Video via Zoom.
Spring means gardening season, but it also means that the ticks are out. In this talk, we'll cover the basic biology of Wisconsin's main tick species and discuss the health threats associated with ticks. Lastly, we'll examine ways to protect ourselves, our families, and our pets from ticks. Our presenter will be PJ Liesch from the UW-Madison Dept. Entomology Insect Diagnostic Lab.
Registration deadline: April 23, 2020, 8:00 am
Register here: https://go.wisc.edu/k5pqoy
The program is free, but registration is required. An email with confirmation will be sent to you.
—