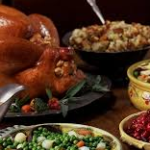 As Thanksgiving approaches, cooking the traditional turkey dinner gives rise to anxieties and questions. What
kind of turkey should I buy? Should I buy a frozen turkey or a fresh one? How do I store my turkey?
A few simple steps will not only ease your holiday fears, but will ensure a delicious and a safe meal for you, your
family, and your friends. The following information may help you prepare your special Thanksgiving meal and help
you countdown to the holiday.
Countdown to the Thanksgiving Holiday!