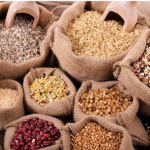 By: Jace Purdy, FoodWIse Nutrition Educator.
You've probably been told to eat whole grains. But what are they? Why are they important? Where are they found in foods?
What is a Whole Grain?          
Whole grains are whole because we eat the whole thing, the whole piece of rice or corn or wheat OR we grind the whole seed into flour using all parts. Whole grain products have more fiber and important nutrients, such as B Vitamins, iron, folate, selenium, potassium, and magnesium.
Image Source:  University of Maine Cooperative Extension
Where do we find Whole Grains?
You can find whole grain versions of rice, bread, cereals, flour, and pasta on most grocery store shelves. Check the label. If the first ingredient is whole grain or "Whole Wheat Flour," that's good. The key word is WHOLE. Other common whole grains include brown rice, oatmeal, corn, popcorn, and quinoa.
Why do we want Whole Grains?
Whole grains are naturally higher in fiber and key vitamins and minerals. Fiber helps you feel full and satisfied, so you can maintain a healthy body weight. Diets rich in whole grains are linked to a lower risk of heart disease, diabetes, and certain cancers. Try making one simple swap: whole wheat bread instead of white, brown rice instead of white, or popcorn instead of potato chips. Enjoy whole grain foods AND the health benefits.
Recipes using Whole Grains:
https://spendsmart.extension.iastate.edu/recipe/whole-grain-cereal-treats/
https://spendsmart.extension.iastate.edu/recipe/chewy-granola-bars/
Resources:
https://www.mayoclinic.org/healthy-lifestyle/nutrition-and-healthy-eating/in-depth/whole-grains/art-20047826
https://www.myplate.gov/tip-sheet/make-half-your-grains-whole-grains