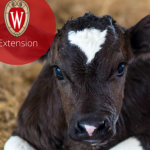 Badger Dairy Insight
Join the University of Wisconsin-Madison – Division of Extension's Dairy Program bi-weekly on Tuesdays from 1-
to 2:30 pm CST for the Badger Dairy Insight webinar series. There is no charge to participate in the sessions, but
pre-registration is required to allow access to the session.
Register online at:
https://extension.wisc.edu/agriculture/farm-ready-research/
We are featuring your local Extension Dairy Program Educators and
UW Specialists as they present on current dairy topics. Take the opportunity to learn from and discuss with
experts on the dates below. We hope to see you at one of our January programs!
January 11th: Animal Care Starts with the Calf
Jennifer Van Os, Assistant Professor, and Extension Specialist, will discuss pair or group housing of calves is
growing in popularity due to research showing benefits for calf growth, development, and welfare.
This presentation will review best practices to promote good health and welfare in calves raised in pairs or small
groups. Sylvia Kehoe, Professor UW-River Falls, will discuss how there are multiple ways to disbud a calf however
they all share important characteristics. This presentation will review the advantages and disadvantages of
different disbudding methods and the ways we can make this an easy, safe, and effective process for both calves
and employees.