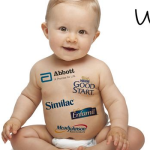 Many families rely on formula to feed their babies and have found shortages of formula in stores. The shortage is due in part to the recall of formula manufactured by Abbott Nutrition that may be contaminated with Salmonella or Cronobacter, two pathogens that are extremely harmful to infants, The facility that made the formula (located in Sturgis, Michigan) has been temporarily closed and this is affecting supply. Problems within the distribution chain have also contributed to the shortage.  It has been suggested the existence of a limited number of companies that make baby formula is also contributing to the problems. (Four companies make 90% of the US supply, with Abbott the largest producer.)  There are ~20 specialty formulas that ONLY Abbott makes and for which the Sturgis, Michigan facility is a key supplier. These specialty formulas are used by about 5,000 infants as well as some older children and adults with rare metabolic diseases.
The federal and state governments are working to improve the formula supply.  They are encouraging all formula manufacturers to increase production, allowing flexibility in government regulations to make certain formula types or sizes more readily available, and monitoring the market to try and prevent price gouging.  However, there is not consensus on when supplies will return to normal.
Health professionals, including the American Academy of Pediatrics, have provided recommendations for parents struggling to find the formula they need.  Below is a summary of recommendations, with links for more information.