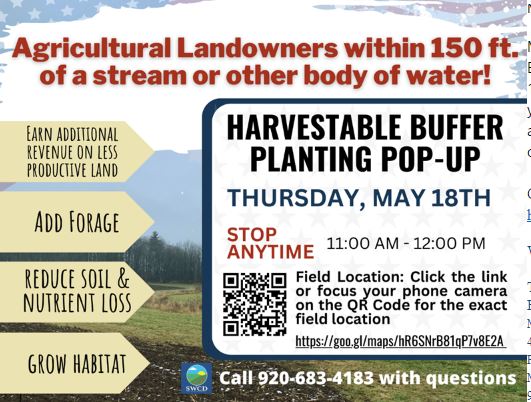 Manitowoc County SWCD and Riverside Dairy are hosting a Harvestable Buffer Planting Pop-Up Field Day this Thursday, May 18th from 11:00am-12:00pm, just north of Cato Falls. Stop on out anytime. This is informal. If you're considering installing a Harvestable Buffer and want more information about the SWCD program, this is a good opportunity to speak with one of our Resource Conservationists.
Click the link for the exact field location: https://goo.gl/maps/hR6SNrB81qP7v8E2A
We hope to see you there!
Tara Wachowski
Education and Grants Manager
Manitowoc County Soil & Water Conservation Dept.
4319 Expo Dr.
PO Box 935
Manitowoc, WI 54221-0935
920-683-5133