Master Gardeners 2019 Garden Walk
Saturday, July 13th 9:00am-4:00pm
Click on the link below for a full descriptions of the gardens
 2019 Garden Walk Garden Descriptions 
Click on the link below for the map to the gardens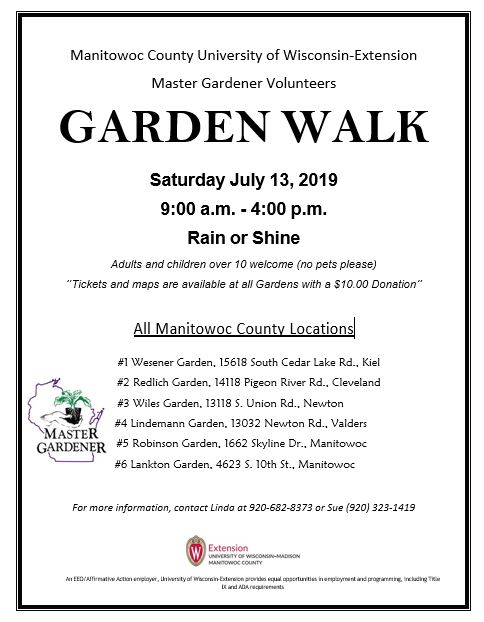 Register now for Wisconsin Invasive Plant Management on Roadside Workshops!
The University of Wisconsin-Madison Extension along with 4-Control are conducting roadside invasive plant workshops throughout the state.
Click on the link below for more information and how to register
Master Gardener Level 1 Training – Dates to be announced for 2020
The Office of Continuing Education in collaboration with the UW-Extension Master Gardeners present – Level 1 Training. The mission of the Manitowoc County Master Gardener Association is to provide horticulture education, community service and environmental stewardship for our community and affiliation with the University of Wisconsin Extension.
Spring Garden Talk with Kerry Ann Mendez
Master Gardeners Help Woodland Dunes With Outdoor Education
Woodland Dunes Nature Center received a $500 donation from the Master Gardener Volunteers of Manitowoc County to be used for environmental education programs for children. "We are grateful for this donation," stated Wendy Lutzke, Environmental Educator and Butterfly Garden Coordinator at the Dunes. "It allows us to provide opportunities for local youth to participate in hands-on activities that encourage a sense of pride and stewardship of our natural resources."  According to Jim Knickelbine, Executive Director of Woodland Dunes, the gift will be used for instruction regarding habitat restoration, butterflies and other pollinating insects in the Dorothy Star Bee and Butterfly Garden at Woodland Dunes. Proceeds from the annual Garden Walk held by the Master Gardeners financed the educational grant.