Market Animal Sale Project

---
Market Animal Committee Bylaws
Market Animal Drug History Form
2023-Manitowoc Market Animal Scholarship Application
Manitowoc County Market Animal Committee Facebook Page
Youth for the Quality Certification Care of Animals (YQCA)
The 2023 Market Animal Sale Participation program begins August 1, 2022 and ends July 31, 2023. First year exhibitors must acquire a minimum of 6 points to be eligible to sell an animal in the 2023 Market Animal Sale. All other youth exhibitors must acquire a minimum of 7 points to be eligible to sell an animal in the 2023 Market Animal Sale. Each person is responsible for keeping track of his/her eligible activities for the year. The booklet must be completed and turned it or postmarked by August 1, 2023 to be considered for Market Animal Sale eligibility and other awards and/or prize.
2023 Manitowoc County Market Animal Sale Rules
Why do we offer the sale?

To provide junior livestock producers a market for projects graded and sold at the Manitowoc County Fair.
To provide an incentive and encouragement to livestock projects and appropriate record keeping.
To recognize members who do quality work in selecting, feeding, and showing their projects.
To teach a greater understanding of meat animal evaluation at the packing plant level.

What will be offered at the sale?

Lowerline/ Minature Breed: Weight over 900 pounds
Beef: Weight over 1100 pounds
Dairy Steer: Weight over 1250 pounds
Hogs: Weight over 230 pounds. Any hog greater than 290 pounds will be eligible for sale however exhibitor will only be paid up to 290 pounds.
Lambs: Weight over 115 pounds.
Goats Weight over 50 pounds

Who can buy?

Anyone interested in supporting youth.
Anyone who enjoys and appreciates a supply of quality meat.
Anyone who would gain beneficial advertising value.

How does the sale work?

Potential bidders register at the sale ring, but there is no obligation to buy.
Animal weights will be stated and bidding will be based on price per pound.
All accounts are to be settled with the clerk immediately after the sale. The buyer will assume ownership of the animal immediately after the account is settled.

Who can participate?

Entries open to all 4-H, FFA members, or any other youth organizations in Manitowoc County.

2023-24 MANITOWOC MARKET ANIMAL COMMITTEE BOARD OF DIRECTORS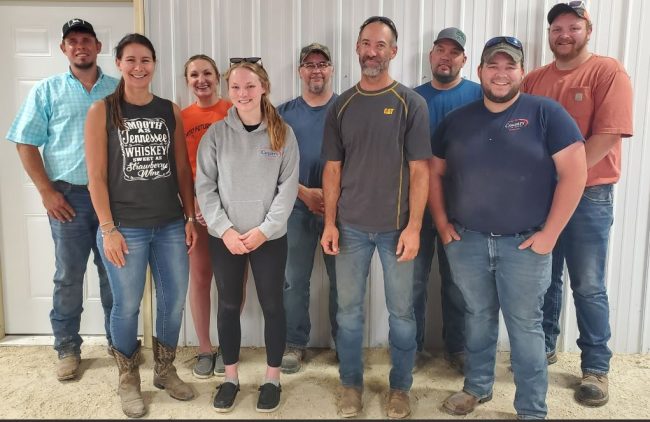 Back Row: Dillon Reis, Amanda Staudinger, Dan Miller, Mike Hackmann, RJ Krepline
Front Row: Jamie Fisher, Alex Kautzer, Tim Buck, Lucas Griffey
President             Tim Buck 920-374-0021
Vice-President    Jean Grotegut 920-323-0410
Secretary             Alex Kautzer 9202-286-4016
Treasurer Amanda Staudinger 920-203-4724
Director               Lucas Griffey 920-645-1159
Director               RJ Krepline 920-901-6327
Director               Crystal Gill 920-973-9722
Director Dillon Reis 920-412-5252
Director               April Vogel 920-901-0193
We are a group of volunteers voted onto this board for 3 year terms by the exhibitors and their families at the annual meeting. Your suggestions and questions are welcome to any one of us. Our purpose is to make the Manitowoc County Market Animal Sale the best quality sale for our buyers to support, as well as striving to educate the youth exhibitors all about animal care and responsibility throughout the year.
We currently meet the second Sunday of each month at Manitowoc County Office Complex (MCOC) at 6:30 PM, but that is subject to change at the board's discretion throughout the year.