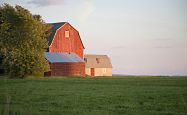 What is LAND?
LAND is a program that is designed to assist people planning to enter or exit dairy farming. A local work group consisting of agricultural professionals from UW-Extension, Farm Service Agency, CP Feeds, Investors Community Bank and Lakeshore Farm Management Association manage the program. LAND covers nine Lake Michigan area counties: Brown, Calumet, Door, Fond du Lac, Kewaunee, Manitowoc, Ozaukee, Sheboygan, and Washington. LAND Brochure
What can LAND do for you?
Link exiting and beginning dairy producers in order to form a partnership or joint venture
Assist beginning dairy producers with an opportunity to work with existing facilities and cows in order to start farming
Assist exiting dairy producers to gradually transition out of farming
Assist beginning dairy producers to locate a facility in order to start farming
Assist exiting dairy producers in the transition out of the dairy business
How do you qualify to participate in the program?
Exiting Farmers
You are thinking about retiring in the next few years
You are looking to partner with someone to ease your daily work load
You are looking to sell your property and business
You are already out of farming, but would like to work with a beginning farmer in order to use the facilities
Your operating or vacant farm is for sale or rent
Beginning Farmers
You want to start dairy farming, but cannot afford to purchase an entire working operation at this time
You want to get some dairying experience before starting out of your own
You would like to rent or buy a portion of a current working operation
How do you sign up?
Fill out the appropriate document below and send it back to:
LAND
Manitowoc County UW-Extension
P.O. Box 935
Manitowoc, WI 54220-0935
More questions? Contact your local member of LAND:
Angie Ulness, Manitowoc County UW-Extension, 920-683-4511
Brad Englebert, Farm Service Agency, 920-683-5119
Joel Marquardt, Lakeshore Farm Management Assoc., 920-775-3900
Dennis Schueller, CP Feeds, 920-901-1497
Roger Sinkula, Investors Community Bank, 920-686-5660
Aerica Bjurstrom, Kewaunee County UW-Extension, 920-388-7138
Tina Kohlman, Fond Du Lac County UW-Extension, 920-929-3180
Eric Ronk, Calumet County, UW -Extension, 920-849-1450