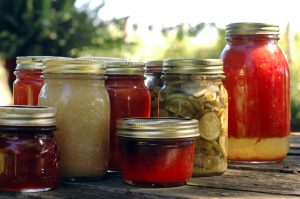 The Family Living Educator position for Manitowoc County is still currently vacant.  Questions regarding food preservation and canning may be answered through publications in our Learning Store:
https://learningstore.uwex.edu/Food-Preservation-and-Safety-C60.aspx
Visit that page and choose the food item for which you are seeking information.  You may then read and print the information from your computer, or you may order the publication through the website.
For questions relating to commercial food preparation or preparing any food item for sale contact:  Barb Ingham bhingham@wisc.edu or 608‐263‐7383.
For a listing of other sources of reliable information regarding food safety and food preservation please click here Food Safety Questions Flyer
Best Colleges Student Nutrition Resources
Dietary Guidelines  to promote health and reduce risk for major chronic diseases
Eat Right  Academy of Nutrition and Dietetics, the world's largest organization of food and nutrition professionals
Food and Nutrition Information Center  provides credible, accurate, and practical resources for consumers, nutrition and health professionals, educators, and government personnel
Food Fact Sheets  developed by University of Nebraska-Lincoln
Food Safety  find hot topics to keep you informed, training announcements, food preservation recipes and tips
Home Food Preservation  National Center for Home Food Preservation is your source for current research-based recommendations for most methods of home food preservation
Ingredient Substitutions  a list of acceptable ingredient substitutions for cooking
Manitowoc County Food Resources Guide  if you are in need of free or low cost food
Nutrition.gov  easy, online access to government information on food and human nutrition for consumers
Nutrition, Physical Activity, and Obesity   addresses three important risk factors for illness, disability, and premature death
Safety Recalls  alerts, safety recalls, and tips from the U.S. Food and Drug Administration
Tiny Tastes Can Total BIG Calories
U.S. Centers for Disease Control and Prevention
U.S. Department of Agriculture (Food and Nutrition Information Center)
Vegetable Fact Guides  from the Wisconsin Fresh Market Vegetable Growers Association
View these publications online and purchase copies such as Canning Fruits Safely and Home Food Preservation Resources.                                                                                                      
 Fruit and Vegetable Preservation – This site is part of the Wisconsin Horticulture website and contains tips on preserving all sorts of garden fruits and vegetables.
Complete Guide to Home Canning – A searchable database from Penn State University. All canning recommendations meet the requirements of the 1994 USDA Complete Guide to Home Canning. (Agriculture Information Bulletin No. 539) Canning and Preserving Without Sugar 4th Edition
Below are Food Preservation Webinars from 2013 and 2014. Slide Presentations will download and open in Microsoft Powerpoint on your computer.
Lets Get Ready To Preserve: An Update on Canning Research Slide Presentation
Making Jams, Jellies, and Fruit Preserves Slide Presentation
Canning Vegetables Safely Slide Presentation
Time To Make Pickles Slide Presentation
Drying Foods At Home Slide Presentation
Successful Storage of Garden Produce Slide Presentation
Preserving Meat Slide Presentation
Freezing Fruits and Vegetables Slide Presentation
Food Safety and the Thanksgiving Meal Slide Presentation
Canning Meat Slide Presentation
Canning Tomatoes Slide Presentation
Canning Vegetables Slide Presentation
Freezing Jams and Jellies Slide Presentation
Fruits and Pickles Slide Presentation
Top | Return to Family Living home