Written by Christine HolmPosted on May 31, 2023
In Manitowoc County, bilingual StrongBodies classes support Hmong and Southeast Asian elders as they stay active, build and maintain social connections. Facilitated by educators in the SNAP-Ed funded FoodWIse program, StrongBodies is a strength-training series that engages seniors to maintain functional movement alongside nutrition education. Working in regular partnership with the Manitowoc Senior Center, programs respond to senior needs and encourage community-led engagement.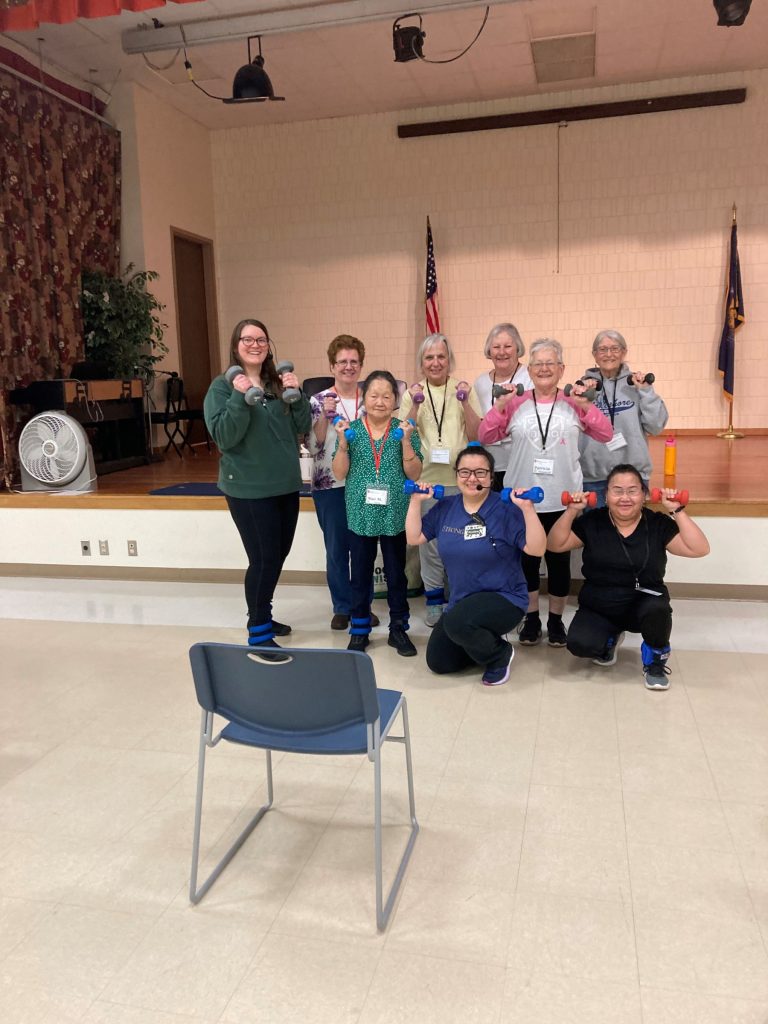 Situation
Within the first month of her new position with UW-Madison Division of Extension FoodWIse program, Bilingual Nutrition Educator Krystina Yang started training to facilitate StrongBodies classes. Jumping in to co-facilitate with educators in Kewaunee and Marathon counties, Krystina quickly understood how this strength-based training program compliments FoodWIse goals to encourage both healthy eating and physical activity for overall wellness, particularly with older adults.
In Manitowoc, as Krystina connected with community partner Nenglee Vang in her roles at Catholic Charities and the Safe Harbor, she learned the importance of being responsive to community needs. Working with Hmong elders, Krystina approaches programming by listening to participants' interests and needs. "I present an option – if yes, great! If not, we try something else." She also understands that it may take some time for a group to be ready to try something new. For many Hmong elders who spent years tending and farming large fields of produce, winters in northeastern Wisconsin can leave them eager for exercise and movement to stay active. After seeing Krystina's investment in the group and their needs, they were ready to give StrongBodies a try.
Approach
Even before beginning a StrongBodies series in Hmong, Krystina took language classes to build on her skills. "At the beginning, it took time to learn the vocabulary for exercises in Hmong." This attention to vocabulary was important so Krystina could offer precise, supportive feedback for postures. She saw participants' skills with exercises improve when she could be specific with adjustments.
In an early spring 2023 series, Krystina decided to facilitate the classes in both Hmong and English so that she could support Hmong participants, as well as Southeast Asian participants who spoke English. This also let a wider range of community elders to join the series.
During this series, Krystina had assistance with FoodWIse intern Morgan Christensen in class. Working as a team, Morgan demonstrated an exercise, like wrist curls, while Krystina moved around the Manitowoc Senior Center room, helping participants make effective changes to protect joints and muscles. This individual attention also allowed Krystina to build strong rapport with participants, learning their names and their physical and personal strengths, as they engaged in physical activity together two times a week throughout the six week session.
Outcomes & Continued Opportunities
Because Krystina works to support Hmong elders in Manitowoc, the time and attention to connect with her participants during StrongBodies classes means she has the opportunity to continue expanding programs. With the elders specifically, she can keep asking what their interests are, and what future programming they want to engage in. Following the end of the spring series, FoodWIse will continue to engage with the group of Hmong elders through a community garden partnership with ADRC, using summer gardening programs to stay active and increase consumption of fruits and vegetables.
From the elders' feedback and input, Krystina also connects with partners who can provide ongoing social support services. While many people enjoy virtual classes, online programs aren't accessible for all participants due to digital literacy levels and technology challenges which include wi-fi speeds at home, access to devices and restrictions on data plans to stream classes. Connecting with senior center hubs and partner sites can mean having high-quality technology and dedicated staff to facilitate connections to host virtual classes and expand reach for Hmong elders statewide.
Not only is there support for StrongBodies in multiple languages, but FoodWIse tries to support the Senior Center to offer inclusive foods and culturally appropriate options at senior meals. Krystina emphasizes that this attention makes elders feel seen and included. In turn, elders then invest in the community space. For Krystina, this shows that something "takes off a lot better when community-led. We can't just say 'this is a Krystina-and-FoodWIse-thing.' This is for you, you need to champion it." With her patient and steady support, Krystina shares how community trust leads to meaningful movement.