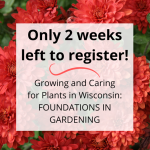 This online, self-paced class is filling up fast…
but there is still room if you register soon.
Registration closes on August 15, 2022. No late registrations. 
Visit this webpage for more details, including cost and need-based scholarship information. Also, you don't need to be from Wisconsin to join the course. People from the Midwest and beyond are welcome.
Whether you are a beginner, avid gardener or professional, you and your plants will benefit from this course. You'll leave the course with a combination of practical gardening skills to try plus the knowledge of why they work.
Starts September 11, 2022, ends December 10, 2022
To register or learn more about the course, please visit our website.
This is an approved learning opportunity for individuals interested in the Wisconsin Extension Master Gardener Program, To find out more check out the Master Gardener website
Keep in touch… on Facebook! 
If you're on Facebook, Follow Us! We provide all kinds of timely horticulture updates that you might find helpful or interesting.